The Institute of Liver and Biliary Sciences is unique in nurturing a vibrant research culture in a clinical setting to ridge the gap between the bench and bedside. To fully understand the diseases that affect the "hepato-pancreato-billiary highway" it is imperative to have cutting edge technologies established at the institute in order to test hypothesis and implement ideas in a multi-disciplinary format. In this regard a major thrust areas of the department includes Genomics and Transcriptomics, Molecular Virology,Molecular Immunology, Cancer Cell Biology, Haematopietic Cell Biology and regenerative Medicine. To accelerate in these areas the department has also established a core "ILBS-NIH laboratory of Molecular Immunology" and established small animal house facility. Department is also setting up the state of the art core facilities and Tissue bank which would serve as a nodal research center in the country. The research is funded solely by extramural grants from various national and international funding agencies. The department has also set up several international tie ups with or without funding from govt. agencies. A multidisciplinary approach is being used to address various pressing needs in the area of liver disease progression and these include: molecular immunology, identification of microRNAs by Next Generation sequencing, role of gut metagenome in gut-liver axis, proteomic and meatbolomic approaches to identify biomarkers in acute on chronic liver failure, animal models of cirrhosis and acute liver failures, role of tissue microenvironment in liver regeneration and mechanistic roles of liver degeneration such as apoptosis and cellular senescence.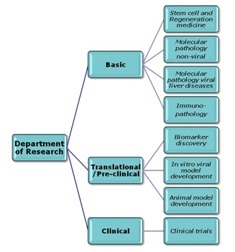 Educational Activities
In 2013, the Indo-German Workshop on Regenerative Medicine in Liver Diseases was conducted at the Institute of Liver & Biliary Sciences (ILBS) under the auspices of Indian Council of Medical Research (ICMR) and Federal Ministry of Education and Research, Germany. A total number of 7 premier institutes from Germany and 13 major clinical and research institutes from India were represented in the meeting. ILBS-NIH laboratory of Molecular Immunology, has started a training program on Flow cytometry and conducted Flow cytometry workshop, where all national and international students, postdoctoral fellows and Faculties attended the workshop.
Department's Achievements
In 2013, along with basic research proposals, Laboratory of Molecular immunology has also received International funding for studying the immunogenetics in the naive Chronic HBV and HCV patients. Department of research has developed new protocols and established international MOU's with NIAID, NIH,USA, Baylor Institute for Immunology, USA, Gilead Sciences, California. From research department, many students have presented their ongoing work in the prestigious national and international conferences like AASLD, EASL, Hepatology 360 and ISG. Group was also recognized by many international collaborators and they have provided visiting fellowships to young investigators.
Clinical Research
The clinical research facility at the Institute of Liver and Biliary Sciences, conducts multi-centric, global, complex clinical trials of new therapies, molecules to meet the unmet need of medical sciences. Such complex clinical research and epidemiological studies are being conducted by the ILBS clinical faculty and dedicated staff specialized in conducting clinical trials as per the international standards, which are highly specialized in the area of liver and biliary sciences and have a vast experience in medical research with major publications. Experienced research staffs sphered studies through a required safety approval by the ILBS's highly competent Institutional Ethics Committee and Drug Controller General of India. ILBS carry out Clinical Trials in various areas like drug trials, in-house, national & international projects. The Clinical Research Department of ILBS is run by a team comprising of Director, Associate Professor, Assistant Professor, Epidemiologist, Clinical Trial Coordinator and Research Assistants who coordinate the various activities and maintain quality in research as per ICH-GCP Guidelines and other regulatory authorities. The Clinical Research at ILBS provides the bridge between medical research and patient care. Patients, however, may derive benefit from clinical trials by gaining early access to new treatments. Most, however, have altruistic motives and participate in order to further the understanding or treatment of particular diseases. Patients who join clinical trials receive access to new treatments and the dedicated attention from physicians, research nurses and coordinators. Many participants are also motivated by helping future patients, as many studies may not influence treatment for years. In a short span, the facility of clinical research has established itself and attained vital position in the Institute's objective and mission of being pioneer institution in research. Currently there are many clinical trials ongoing in different stages. In almost every clinical trial we have enrolled highest numbers of patients globally at ILBS which has enhanced the image of the Institution and set standards of clinical research among one of the top at the International level. We are being looked by multinational companies and CROs as major recruiting site with state of art facilities and dedicated staff.
Clinical Department Achievements
Dr. Ankit Bharadwaj

Presented an oral presentation at the meeting of the American Association for Study of the Liver Diseases (AASLD) 2013 held in Washington DC, USA on 4th November, 2013.

Presented an oral paper in Best of AASLD meeting held on 7th and 8th of December 2013 in Mumbai.